Triple win for Environ & the Focus Care Radiance+ Range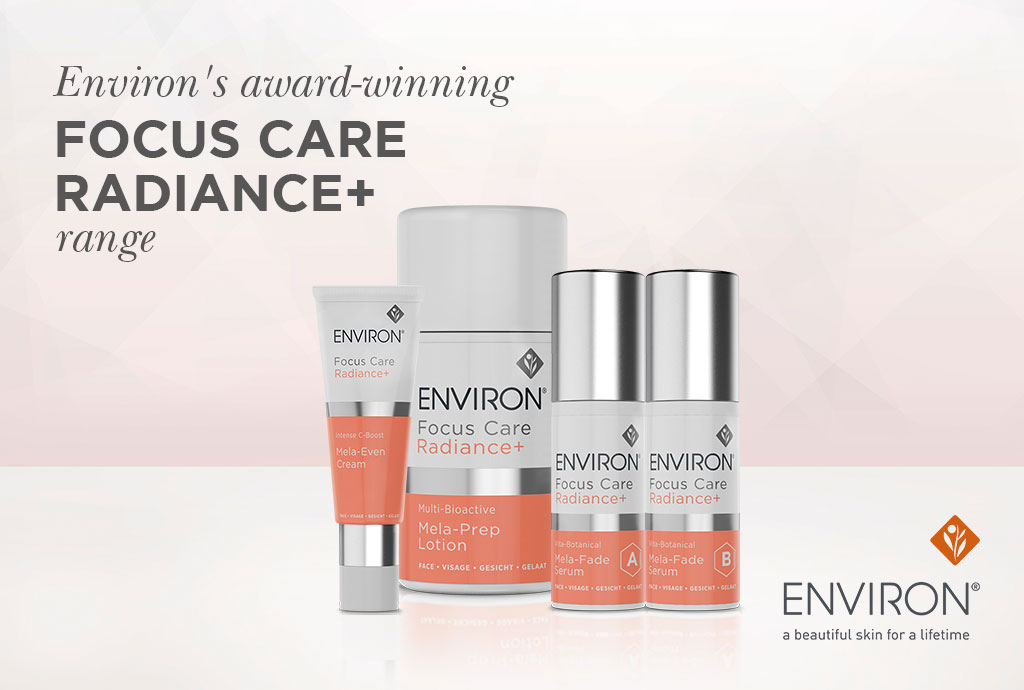 Cape Town, 27 November 2019: Environ Skin Care, a globally recognised and loved Professional Skin Care brand built on science, beauty and care, has scooped three awards at the prestigious and highly regarded South African Pharmaceutical & Cosmetics Review/Symrise New Product Competition. Environ's Focus Care Radiance+ Range was crowned the "Overall Winner of the New Product Competition", winner of the "Best Range" Category as well as the winner of the "Best Packaging" Category.
Deemed as the "Oscars of the South African Cosmetics Industry", the prestigious awards ceremony took place in Johannesburg at an upscale conference and events establishment, perched on top of Joburg's exclusive World Trade Centre, offering breath-taking views of the city and a magical sunset experience. The perfect setting to acknowledge the industry's highest achievers.
The New Product Competition judges spoke highly of Environ's Focus Care Radiance+ Range targeting pigmentation with its promise of even tone benefits. "The premium look of the products and clever use of packaging elements show absolute attention to detail while the formulations have been designed beautifully". Judges called the combination of actives and layering in Environ's Radiance+ Range 'very clever' to obtain maximum efficiency without compromising on the formulations or having the ingredients clash.
Cape Town-based Environ Skin Care has received over 100 other recognitions for outstanding products worldwide, most recently being named as "Top Medical Skin Care" for the second consecutive year by Aesthetic Everything® in the USA.
"We are honoured to have achieved not only one but three awards. These acknowledge Environ's role as innovators in the skin care space, recognising the efficacy of our products and our mission to keep skin beautiful," says Environ's Founder and Scientific Director, Dr. Des Fernandes.
Affectionately known as, "Dr. Des", by his teams, peers and colleagues, the internationally acclaimed Plastic Surgeon and visionary has recently accepted the prestigious title of Professor by the University of Cape Town. This respected title, offered to only the most highly accomplished in the medical field, is a testament to his ground-breaking work done in the field of Cleft Lip and Palate.
Environ continues to build the legacy of scientific innovation, which is celebrated and respected globally through the launch of new innovations and powerhouse product formulations like the Focus Care Radiance+ Range.
About Environ's Focus Care Radiance+ Range:
Environ's Focus Care Radiance+ Range targets the root causes of skin discolouration, dark spots, and uneven skin tone to reveal a more even-toned, radiant complexion. The revolutionary 3-step Mela-Smart System™ is comprised of 4 innovative products that work together to help inhibit the 6 complex steps involved in the formation of hyperpigmentation.
STEP ONE: Multi-Bioactive Mela-Prep Lotion
This luxurious lotion contains an expertly formulated combination of highly specialised ingredients for a brighter, more even-toned complexion.
STEP TWO: Vita-Botanical Mela-Fade Serum System
This innovative system, comprised of 2 serums that work together, boasts a potent blend of vitamins and botanicals that assist in targeting the root causes of skin discolouration and helps to improve the appearance of uneven skin tone as well as visible sun damage. The results? A noticeable reduction in the appearance of dark spots and discolouration.
STEP THREE: Intense C-Boost Mela-Even Cream
This technologically advanced vitamin C infused cream reveals a brighter, more evenly radiant and healthier-looking skin.
For optimal results, Environ recommends using the Radiance+ Range in combination with daily Vitamin STEP-UP SYSTEM® routine.
Dr. Des Fernandes has pioneered many world firsts, such as the innovative Vitamin STEP-UP SYSTEM®, Cool Peel Technology, and Collagen Induction Therapy. In 1998, he took Environ's skin care knowledge into the technology field with the launch of the patented Ionzyme DF Machine – the world's first low frequency sonophoresis and iontophoresis facial treatment. The brand was also awarded the Swiss Vitamin Institute seal, verifying the strength and effectiveness of their Vitamin A moisturisers and serums.