South African skincare brand donates over R1 million in products to healthcare workers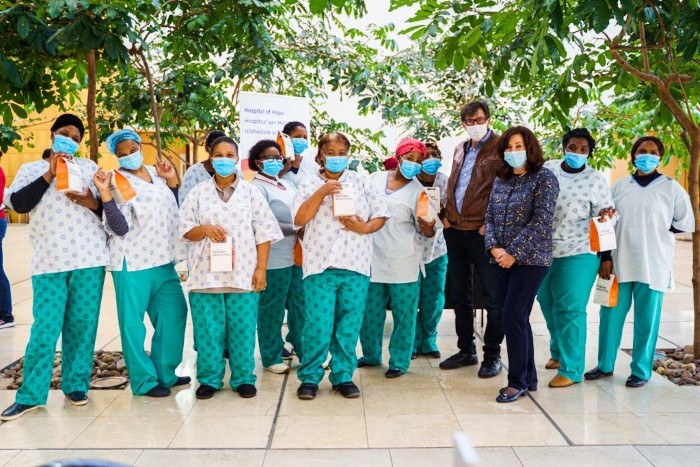 July 2020: As a thank you to those on the frontline of the global pandemic, a South African born and internationally renowned professional skin care brand has donated over R1 million worth of product to doctors and nurses at six hospitals in Cape Town and KwaZulu-Natal.
Environ recognises the immense daily assault on skin as a result of the masks that the doctors and nurses are wearing. By gifting them skincare boosters which help to soothe and restore skin sensitised by long hours of wearing a mask, Environ wanted to show support and care as well as lift morale for healthcare workers who are making daily sacrifices.
Environ has donated to doctors and nurses working at the Hospital of Hope, a special COVID-19 field hospital established at the Cape Town International Convention Centre, as well as to doctors and nurses at various hospitals in the Western Cape and KwaZulu-Natal.
On 7 July the donations were handed over by Dr Des Fernandes, Environ's Founder and Scientific Director, and his sister Val Carstens, Environ's Group Chairman, Director and CEO at the Hospital of Hope, CTICC.
"My overwhelming impression on visiting the Hospital of Hope was the cheerful dedication of the staff to helping our people get through this unusual time," says Dr Fernandes.
Doctors working to treat those affected by the global pandemic have had to make overwhelming sacrifices – many are unable to see their families, for fear of spreading the infection, and many are at high risk of contracting the virus themselves. Added to this is the toll that long hours and gruelling work take on these frontline workers.
"We were delighted to meet those who care for us! We hope we make a difference to their skin as much as they make a difference to people's lives in their care," adds Carstens.
About Environ:
Environ is a globally recognised and loved professional skin care brand that is built on science, beauty and care. Since 1990, Environ has used the science of beauty to change the way the world sees skin care.
The introduction of vitamin A to skincare formulations was a ground-breaking development, first successfully included in cosmetic products by top plastic surgeon, skincare pioneer and Environ founder Dr Des Fernandes. His sister, and Environ's Group Chairman, Director and CEO Val Carstens has built the brand from a dream to a global success. Today the brand has over 140 products in more than 70 countries.
Environ has received over 100 international awards which have recognised the brand for its outstanding products, most recently being twice awarded the Best Medical Skin Care in USA. Environ is favoured by international skin care therapists, the medical fraternity, beauty editors, aestheticians and film stars.
About the donation:
Each donation contained products chosen for their ability to soothe and restore skin that has been sensitised by hours of wearing a mask. These included Environ's popular immune-boosting serum Colostrum Gel that helps to protect sensitive skin from external and internal stressors – and vitamin A enriched moisturising cream, which replenishes skin with vitamin A, antioxidants and essential nutrients that it needs to look healthy and stay resilient.