Environ scoops a double win at the Woman&Home Beauty Awards 2022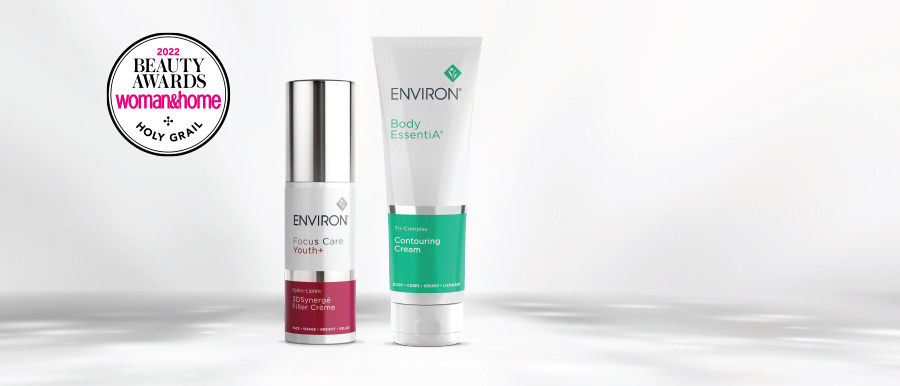 Globally acclaimed for an extraordinary 30-year legacy in the professional skincare industry, Environ Skin Care's award-winning track record for scientific skincare innovations has extended to include two new prestigious accolades. The Body EssentiA® Contouring Cream and Focus Care Youth+® 3DSynergé™ Filler Crème have been voted by leading South African Beauty experts as "best-in-class" at the 2022 South African Woman&Home Beauty Awards.
The Woman&Home Beauty Awards 2022 was designed to help consumers navigate the often overwhelming number of new products on the market by highlighting the top 100 Best Beauty Buys of 2022. The panel of 6 expert judges with extensive cosmetic industry experience meticulously evaluated over 500 entries in order to award the overall winners the "tried and tested" stamp of approval.
Voted "Best Night Cream" in the Skincare category, Environ's Focus Care Youth+® 3DSynergé™ Filler Crème was deemed "beauty sleep in a bottle" by Kelli Clifton (Expert Judge). She said, "if reducing fine lines, wrinkles and an overall youthful glow is what you're after, this is your go-to product." This remarkable new formulation which launched in March 2022, was inspired by two Aesthetic Dermal Filler techniques and designed to target the signs of lines, wrinkles and loss of volume to reveal a smoother, firmer, naturally fuller-looking skin appearance. It took 7 years of extensive research and development by maverick scientist Dr Des Fernandes (Environ Founder and Scientific Director) to unlock the solution to the skin's full rejuvenating potential.
"As a practicing Aesthetic Plastic surgeon, I recognised many years ago that the biggest demand from clients focused on stopping unwanted muscular activity and filling where fat has become deficient in the skin. Environ's R&D team aimed to develop a topical cosmetic formulation that can be used to improve the appearance of well-cushioned skin." -DR DES FERNANDES, ENVIRON FOUNDER AND SCIENTIFIC DIRECTOR
When it comes to targeting dimpled, lax, or uneven skin texture around the body, consumers want tried and tested products that are known to work. Voted "Best Firming" in the Body Care Category, Environ's Body EssentiA® Contouring Cream is an innovative Environ formulation designed with highly specialised ingredients to help visibly smooth, firm, tighten and reshape the appearance of dimpled, unevenly textured skin and lax skin with powerful 3-dimensional contouring effects. "I've been using this for ages, and it really makes your skin feel so amazing over time." - RENEE DE WIT, WOMAN&HOME BEAUTY AWARDS 2022 JUDGE
Start your journey to beautiful skin. Find you nearest Environ Stockist.

Watch the series of interviews with Dr Des Fernandes discussing the revolutionary new Youth+® 3DSynergé™ Filler Crème.

Find out more about Environ

Find out Environ's secret to beautiful skin.