Environ voted "Top Medical Skin Care" for the second year
Cape Town: 18 August 2018: Environ Skin Care, globally recognised and loved Professional Skin Care brand, has been named the "Top Medical Skin Care" company in the prestigious Aesthetics Everything® Awards in USA, for the second consecutive year.
Aesthetic Everything® is the largest network of aesthetic and beauty professionals in the world. The awards are based on votes from over 200,000 aesthetic industry subscribers. Cape Town based Environ, enjoyed its name up in lights on New York's Times Square – a remarkable industry achievement adding to the over 100+ awards which have recognised Environ's outstanding products worldwide.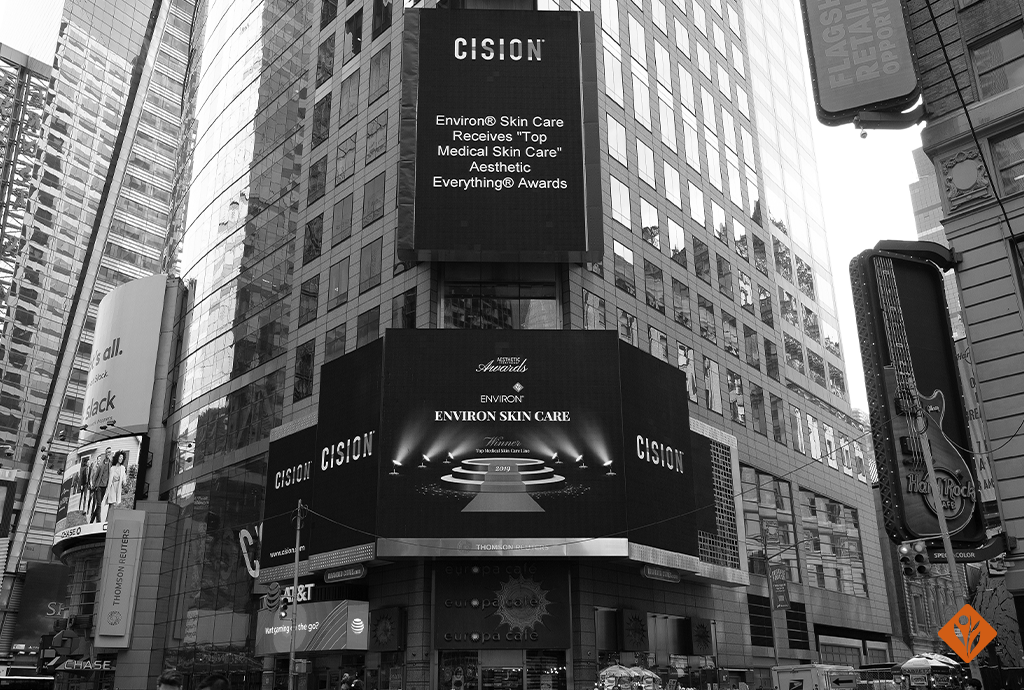 Environ uses the power of science to create products that make a real difference to people's lives. The brand is favoured and lauded by international skin care therapists, the medical fraternity, beauty editors, top aestheticians, film stars and super models. The Vitamin A moisturisers and serums are endorsed by the Swiss Vitamin Institute. The products carry their prestigious seal verifying the vitamin strength and guarantees the active efficacy.
Group Chairman and CEO, Val Carstens, has built Environ Skin Care from a dream to the success that it is today. Founded by her brother - Dr Des Fernandes in December 1990, well-known plastic surgeon and visionary, Dr Fernandes was the first person to successfully use vitamin A and antioxidants in a cosmetic product. Val, believing in her brother, commenced selling these creams to friends and family prior to the formation of the company. She continued developing the company and running the day to day business which today boasts over 140 products, available in more than 70 countries worldwide.
An accomplished entrepreneur and leader, Val has an innate ability to dream big, challenge assumptions and inspire teams – and at the same time translate blue-sky ideas into concrete actions and results. "Decisive, hard work, attention to detail, with a drive to meeting local and international standards has been a key focus. Having an A+ Team committed to meeting the Company's ethos has been the key to success – A Beautiful Skin for A Lifetime. Painting the World Orange keeps me rewarded and focused".
"We have a track record spanning more than thirty years using science to change skin and transform lives" says Dr Des Fernandes. More so than ever, Environ is committed to continue building the legacy of scientific innovation through the launch of new skin technology and powerhouse product formulations.