The future of youthfulness
Launch of Environ's New Youth EssentiA® Range pushes the boundaries of time.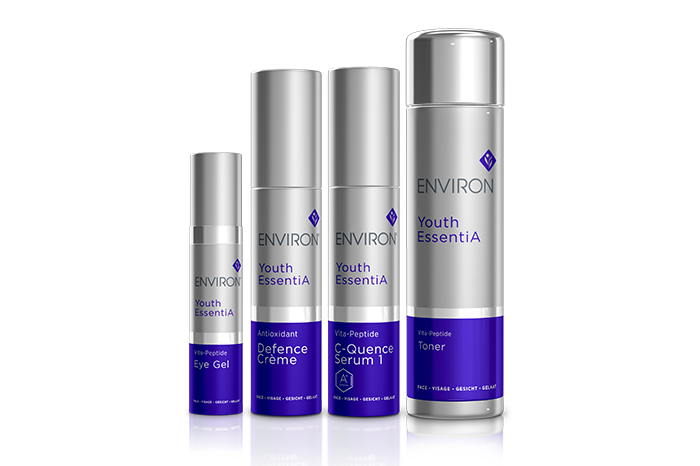 Following the discontinuation of Ionzyme® C-Quence Range in all non-African markets in July 2016, the new Youth EssentiA® Range forms part of Environ's industry leading Vitamin STEP-UP SYSTEM™.
Susan O'Keeffe, Environ Global Brand Executive, said: "The Youth EssentiA® Range represents the culmination of Science, Beauty and Care. The range enriches the skin with a highly effective combination of powerful vitamins, antioxidants and peptides that work together to create healthier looking skin that glows with youthful radiance."
This premium skin care range helps women experience new levels of youthfulness due to new and enhanced serum formulations. Youth EssentiA® assists in the improvement of skin's overall appearance by reducing the visible signs of ageing and creating even, smoother and healthier looking skin.
Discontinued Ionzyme® C-Quence Products
New Youth EssentiA® Products
Ionzyme C-Quence Cleanser
"What people don't know is that the skin needs to gradually become accustomed to increased levels of vitamin A," said Kirstin Kruger, Environ's Global Brand Team Marketing Manager. "The new Youth EssentiA® Range of Vita-Peptide C-Quence Serums is based on Environ's industry - leading Vitamin STEP-UP SYSTEM™ which is designed to help skin become gradually more comfortable with increased levels of vitamin A and other ingredients that keep skin looking healthy and beautiful for life."
The range includes a Hydra-Intense Cleansing Lotion to leave skin feeling clean, nourished and moisturised, a Vita-Peptide Toner to help improve skin's overall appearance, a Vita-Peptide Eye Gel to help reduce the visible signs of ageing, 4 new Vita-Peptide C-Quence Serums to support and maintain a radiantly youthful appearance, and an Antioxidant Defence Crème formulated to work with the Serums (as a "dynamic product duo") for a more youthfully even and radiant complexion. Add-ons to the range include a Focus Frown Serum, Focus Hydrating Serum and Energising Masque.
Elaborating further on the Youth EssentiA® range, Susan O'Keeffe said: "We have pushed the boundaries of youthfulness by significantly enhancing the discontinued Ionzyme® C-Quence serums. The new Youth EssentiA® C-Quence Serums boasts a host of new ingredients that work with the skin: the use of Retinyl Propionate helps to give the serums a longer shelf life, making each of them more beneficial to skin as the vitamin quality is higher for longer. We have also added a cocktail of moisturisers, specifically Jojoba Esters & Sodium Lactate, which gives the serums a superior luxurious texture and leaves skin feeling silky, smooth. Lastly, to protect the integrity and quality of the new serum formulations, the antioxidant, Butylated Hydroxytoluene (BHT), and the UV absorber, Ethylhexyl Methoxycinnimate, have been added. This new Range is an exciting Step-Up in Environ's vitamin A innovation and not one that consumers want to miss."
Throughout its 25-year history, Environ has been known for its ground-breaking advances in the science of beauty. It has gained international renown with its pioneering use of vitamin A in skin care and now has 140 products in over 70 countries. With the launch of the new Youth EssentiA® Range, Environ once again pushes the boundaries of time.
For more information on these products, please contact Environ Skin Care or find your local Environ Stockist.