Environ recognised as the Top Medical Skin Care Company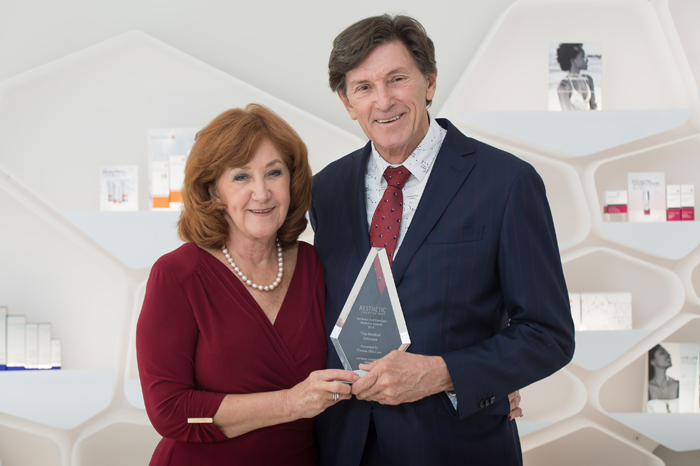 New York: 18 October 2018 : Environ Skin Care, a globally recognised and loved Professional Skin Care brand built on science, beauty and care, has been named the "Top Medical Skin Care" company in the prestigious and highly revered Aesthetic Everything® Awards.
Voted on by consumers, the 2018 Aesthetic Everything® Aesthetic and Cosmetic Medicine Awards is a global competition run from the USA that recognises excellence across a range of categories. This year's competition saw more than 30 000 votes cast between September and October 2018 to battle it out for the sought-after aesthetic industry titles. The announcement of Environ's prestigious win was put up in lights in New York City's famous Times Square: "We are honoured to be named the Top Medical Skin Care company by the Aesthetic Everything® Awards. This award recognises our mission to future-proof skins across the globe and the efficacy of our products, which help create the appearance of more youthful, healthy-looking and beautiful skin," says Dr Des Fernandes, Founder and Scientific Director at Environ Skin Care.
Cape Town based Environ, has received over 100 other recognitions for outstanding products worldwide. It was also awarded the Swiss Vitamin Institute seal, verifying the strength and effectiveness of their vitamin A moisturisers and serums. The brand is favoured and lauded by international skin care therapists, dermatologists, beauty editors, top film stars and super models.
Since 1990, Environ has used the science of beauty to change the way the world sees skin care. Today the brand has over 140 products in more than 70 countries. "We have a track record spanning more than thirty years using science to change skin and transform lives. Because I have seen incredible results using vitamin A, I believe that, with this ingredient, everyone can have beautiful skin," says Dr Des Fernandes, internationally acclaimed plastic surgeon. His innovative vision, together with the savvy business sense of Valerie Carstens, CEO and Chairman – resulted in the birth of Environ Skin Care. Dr Des has pioneered many world-firsts, such as the innovative Vitamin STEP-UP SYSTEM™,Cool Peel® Technology, and collagen induction therapy. In 1998, he took Environ's skin care knowledge into the technology field with the launch of the patented Ionzyme® DF Machine – the world's first low frequency sonophoresis and iontophoresis facial treatment. Today Environ continues to build the legacy of scientific innovation, which is celebrated and respected globally, through the launch of new innovations and powerhouse product formulations. It recently unveiled its most targeted approach to the specific skin conditions of ageing, sensitive and dry skin, through its Focus Care™ Ranges, respectively, Focus Care™ Youth+, Focus Care™ Comfort+ and Focus Care™ Moisture+. It also unveiled the new Focus Care™ Skin Tech+ Electro-Sonic DF Mobile Skincare Device, a revolutionary and convenient hand-held device designed to make a lasting difference to the skin's overall appearance.
About Aesthetic Everything®:
With almost 10 years in business, Aesthetic Everything® is the largest network of aesthetic and beauty professionals in the world. This is the seventh year that Aesthetic Everything® has presented hundreds of awards to deserving and hard-working professionals and companies within the aesthetic industry. The company's success is rooted in their over 200,000 aesthetic industry subscribers and over one million engaged social media connections.
Aesthetic Everything® has been featured in numerous publications including ABC, NBC, FOX, CBS, WSJ, Entertainment Tonight, Good Morning America, Radar Online, Haute Living, Life and Style, E! Online, Reality Tea, OK! Magazine, US Weekly, AOL, Naluda Magazine, Inform New York, Getty Images, Yahoo, Scottsdale Health, Modern Luxury Magazine, Pop Sugar and has also been mentioned in millions of websites and publications worldwide.
About Environ® Skin Care
We believe that skin has a life and that vitamin A is the "oxygen" it needs to look beautiful and healthy for life. It is for this reason that we actively pursue skin care science to skilfully and consistently develop best-in-class, scientifically researched and developed products that work with skin. Our unique and highly effective Vitamin STEP-UP SYSTEM™ helps skin to become gradually more comfortable with increasing dosages of vitamin A and other ingredients thereby reducing the likelihood of a skin reaction. It is for this reason that Environ Skin Care products should only be purchased from trained and authorised Skin Care Professionals. We believe that this approach will ensure complete consumer satisfaction as the power of beautiful science always requires the consultation and product recommendation of a Skin Care Professional. The introduction of vitamin A into skin care formulations was a ground-breaking development in skin care. Dr Des Fernandes, rated amongst the top five plastic surgeons in the world, was a pioneer in this field in the 1980s. He was the first to use vitamin A in high enough doses that help counteract the harmful effects of the environment, pollution and stress and create radiant, visibly improved skin. Since he founded Environ in 1990, vitamin A has become the cornerstone ingredient in the Environ skin care philosophy. It is an essential skin nutrient that has to be replenished every day for skin to appear healthier and more resilient.