SHE-E-O
Celebrating fierce females empowered to write their success stories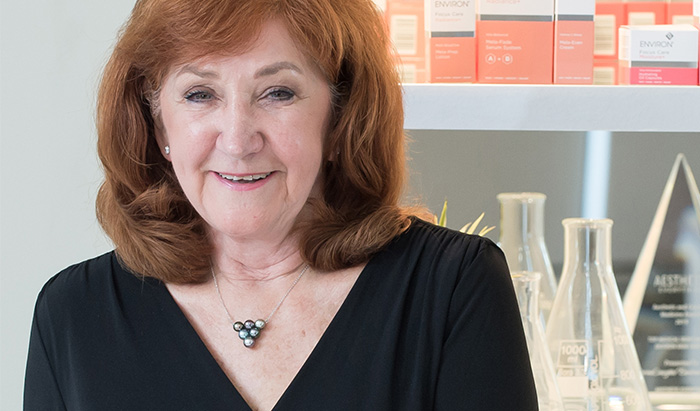 Confidence never goes out of style. Neither does a great business idea. Val Carstens, Environ's remarkable SHE-E-O built the business and wrote her own success story, one globally award-winning page at a time. She shares her story in a recent interview with Woman&Home magazine for the August 2022 Women's month issue titled we are WOMEN, hear us ROAR.
Val Carstens and Environ are names synonymous with skincare in South Africa. She has taken a 31-year-long journey with the brand, starting with a mailed skincare sample from her brother, Dr Des Fernandes, Founder and Scientific Director of Environ. Their introduction of vitamin A into skincare formulations was a ground-breaking development, and they have never looked back. Their Environ range of products has won too many awards to mention – and the driving force behind it was Val. Co-workers describe her as driven, demanding, dependable and determined... She describes herself as caring, a perfectionist and resilient. Traits any great CEO should have! 'In 1989 my brother Des, a plastic surgeon, mailed me a sample of cream he had made in his kitchen with a note saying, "You have no choice but to use this cream". It was to protect me, as I was a sun worshipper! And it was the start of the dream.
'Des' misfortune between 1979 and 1980 was to have two charismatic young patients with melanoma die before they were 23 years old. That experience left an indelible scar. He started researching the mechanism of skin cancer and the physiology and pathology of the skin, and by 1986, he had uncovered all the positive facts about vitamin A and antioxidants. He approached two cosmetic companies in South Africa and advised them to make creams with vitamin A and free-radical scavengers. They were not interested, so he started preparing the creams in his kitchen. It was then that we thought about starting a company. A brother-and sister team became the start of Environ.
'Being a female in business in the past was not easy. Entering the boardroom and being surrounded by men, you had to show you could make decisions and drive harder than they do. But they will soon accept you. I believe in the saying, "A man with dreams needs a woman with vision". This is what I believe was the success of Environ. There was no alternative cream in anywhere in the world, and we only found out later that no other similar creams existed in either America or Europe. Environ was the first! 'The inspiration for Environ was to provide the most effective range of skincare products using only the highest quality ingredients available to us. This would combat and relieve the harmful effects of the environment. 'The most rewarding memories from the beginning of our journey were the change we made to people's lives with the Environ Vitamin STEP-UP SYSTEM® in the Original Range and launching our RAD® Antioxidant Sun Cream in 1992 – the first sunscreen with antioxidants. Then, also fulfilling my dream to become a teacher as I travelled around educating and training therapists on the Environ system. A special treat was an invitation in 1998 by the SA Government to exhibit at the Japanese Exhibition for Cosmetics at Big Site in Tokyo. Japan still is Environ's biggest overseas distributor.
'Vitamin A and antioxidants are the cornerstones of Environ, and it is the vitamin that no skin can do without. If you go into the sun, you deplete your skin of vitamin A, and by diet alone, it takes seven days to replace. We all need to use vitamin A to replace the loss.'
Tough as nails? You bet! But Val has a softer side too. She admits to having guilty pleasures. 'Soft-serve ice cream and chocolates! They have their benefits, even if it is only to enhance one's mood!'
Written by Mart-Marie du Toit for Woman&Home magazine