Environ's Iconic Formulation Wins Best Repairing Body Oil Award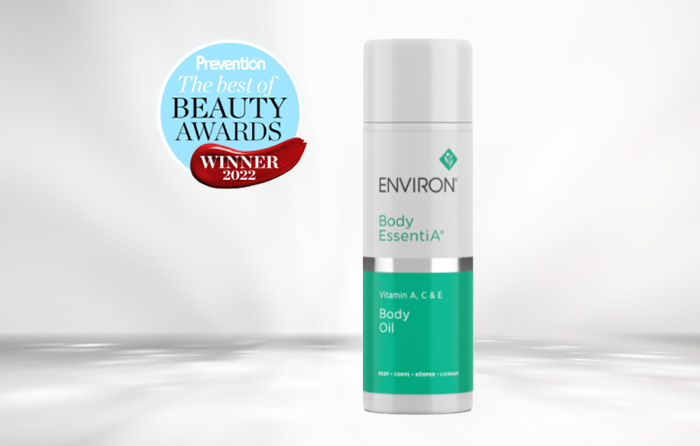 Press Release: October 2022
With over 100 global awards accumulated over 30 years, Environ has trail blazed in the professional skincare industry developing revolutionary, innovative skincare formulations backed by years of scientific research and deep-rooted expertise. The skincare industry sees an unprecedented number of new launches every year, but it's not often that a long-established formulation with more than a double decade track record still earns current industry recognition as best-in-class.
Environ's Body Oil was first launched to the world in 1994 and updated in 2003 to expand the armory of potent antioxidants. 28 years later, Environ's Body EssentiA® Body Oil has been voted "BEST REPAIRING BODY OIL" in the 2022 Best in Beauty Awards by Australia's Prevention Magazine. The prestigious annual competition is judged by an esteemed panel of experts including Aesthetic Doctors, Skincare Professionals, Makeup Artists and Prevention Magazine's own Beauty Editor, drawing on their industry knowledge and expertise to thoroughly test and distinguish excellence across many beauty categories.
Val Carstens (Environ Group Chairman) comments, "We extend our sincere thanks to the judges of Prevention Magazine for recognising the part we play in keeping skin beautiful for a lifetime. We remain committed to developing the best formulations for our valued skincare professionals and clients to fulfil our vision of creating a world where healthy-looking skin is the norm and not the exception."
TRUSTED PROFESSIONAL SKINCARE PHILOSOPHY
This important award recognises that Environ's scientific skincare philosophy remains as relevant and effective today as ever.
"Vitamin A is irreplaceable for the skin. There is simply no alternative for healthy skin at a cellular level. One needs to combat the effects of light exposure and replenish the skin with essential vitamins, antioxidants and other specialised ingredients for it to functional normally and to be healthy-looking", says Dr Des Fernandes, Environ Founder and Scientific Director.
PROVEN. POWERFUL BEAUTIFUL SCIENCE.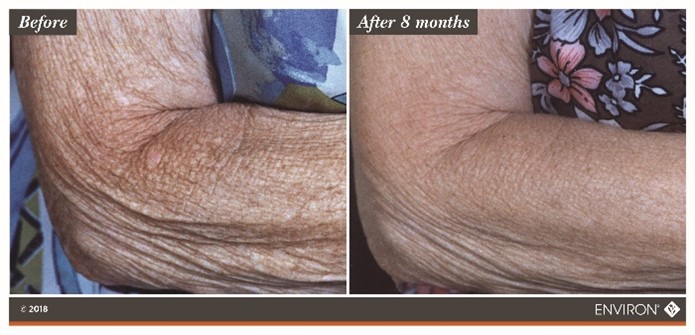 Environ Case Study: homecare products used morning and evening for 8 months: Derma-Lac® Lotion and Body Oil
"Environ remains one of the most revolutionary professional skincare ranges in a modern world which is tends to be filled with wild promises and confounding information. Our formulations respect the critical phenomenon of the balance of active elements when dealing with live, intelligent human skin cells and simply aim to simultaneously promote and restore normal skin function", says Dr Des Fernandes.
ABOUT ENVIRON SKIN CARE
Environ is a globally recognised and loved Professional Skincare brand that is built on science, beauty and care. Environ believes that skin has a life, and that vitamin A is the "oxygen" it needs to look beautiful and healthy for life. It is for this reason that the brand actively pursues skincare science to skillfully and consistently develop innovative products that work with skin. Environ was founded in 1990 by an internationally acclaimed plastic surgeon, Dr Des Fernandes. The introduction of vitamin A into skincare formulations was a ground-breaking development in skincare and Dr Des Fernandes was a pioneer in this field in the 1980s. He was the first to use vitamin A in high enough doses to help counteract the harmful effects of the environment, pollution and stress to create radiant, visibly improved skin.
Dr Des Fernandes's sister, Val Carstens (Environ's Group Chairman), led the development of the company which today boasts over 140 products, available in more than 70 countries worldwide. Vitamin A is the cornerstone ingredient in the Environ skincare philosophy and the highly effective Environ Vitamin STEP-UP SYSTEM® helps skin to become gradually more comfortable with increasing dosages of vitamin A and other ingredients thereby reducing the likelihood of a skin reaction. It is for this reason that Environ Skin Care products are recommended by trained Skincare Professionals.
In addition to over 100 international accolades, Environ's recognition as "Top Medical Skincare" for five consecutive years in the highly revered Aesthetic Everything® Aesthetic and Cosmetic Medicine Awards (USA) has propelled the brand even further as a global Professional Skincare leader.