Take A Moment With These Tips To Live Beautifully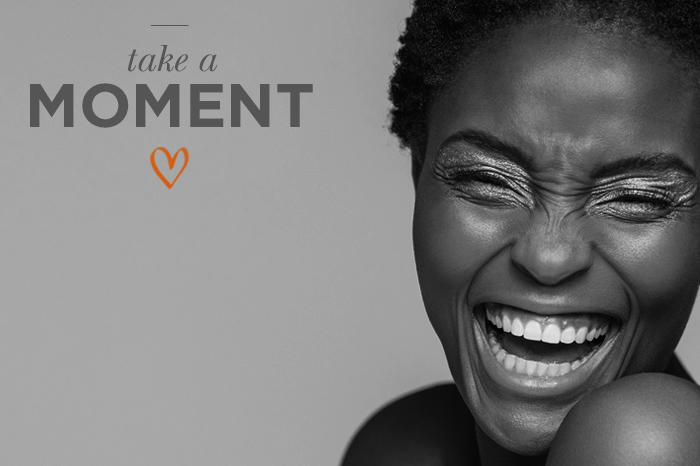 It's easy to get caught up in the craziness of life. Do we ever really "stop and smell the roses"? With today's fast pace, the truth is, we don't take a moment to breathe, and celebrate the endless beauty in the world and the human race. We also don't seem to take enough moments for ourselves. Or take care of our beautiful skin and its health.
Our tips will help you focus on what's important..
Take a moment to treat your skin to a facial like no other:
The Environ Vitamin Therapy facial is designed to calm, soothe and restore your skin to its natural radiance while giving you a moment to put life on pause. Harnessing Environ's pioneering electro-sonic technology and powerful ingredients, the DF Facial is known as the facial like no other. Damaged skin needs daily care and more intensive treatments to assist in keeping skin healthy and beautiful for life.
Take a moment to laugh:
It's good for your soul and great for your skin. Laughter is as good as an aerobics exercise. It delivers more oxygen to your body and brain which helps you feel more energetic and healthier. The benefits for your skin are just as good. Studies show that laughter increases blood flow, boosts collagen and relieves the stress that causes frown lines and wrinkles. Laugh a little more and your skin care regime has begun!
Take a moment to power nap:
Whether you're sleep deprived or not, a power nap is a good way to look after yourself and your skin. A 15-30-minute power nap is known to re-energise your mental alertness, boost your memory and reduce the inflammatory effect on your skin, leaving you refreshed and ready to take on the rest of the day, beautifully.
Sleep is essential for beautiful skin.
Take a moment to apply your eye gel properly:
Make the most of this skin care must-have and take an extra moment to apply your eye gel correctly. It will make the world of difference for firmer-looking, youthfully radiant and revitalised eyes.
Take a moment to work out:
Time and time again we hear about the additional benefits of a good work out, but how does that apply to beautiful skin?
Regular exercise is crucial to a healthy body and skin because it increases the supply of nourishing oxygen-rich blood and nutrients to your skin cells. When you get your heart pumping, your skin receives a good dose of oxygenated blood and starts to produce more of its natural oils, helping it look healthy and beautifully radiant.
Take a moment to go off-line:
The dependency on our tech may help us organise our lives, but going offline, just for a little while, has positive effects on our bodies, minds and skin. Screens emit High-Energy Visible Light which penetrates and harms the skin. Powering down can help you reconnect, charge up both mentally and physically.
Take a moment to add a targeted serum:
Adding a serum from Environ's Focus Care Range to your daily skin care routine takes just a moment of your time. Concentrated serums deliver more of what your skin needs where it needs it most. Treat dry skin to the extra nourishing benefits of HA Intensive Hydrating Serum by applying 1-3 drops morning and evening to harness the power of hyaluronic acid and reveal a smoother, more radiant skin.
Take a moment to apply a masque:
There's nothing more luxuriously pampering than a masque. Try the multi-functional Original Balancing Masque as an overnight masque treatment to boost hydration and leave your skin feeling smoother and looking more radiant in the morning.
Take a moment to be present today:
Practising mindfulness reduces stress levels and increases immunity - both crucial to your skin's health. You can practice mindfulness wherever you are. Try meditation, relaxation or take a moment just to breathe.
Take a moment to have an Environ skin consultation:
Remember, your skin is unique. The benefits of having a thorough Environ Skin Consultation with a trained skincare professional will help you find the right products and treatment plan to start you on the journey to your skin reborn beautiful.
Defend and protect your skin with antioxidants:
Any time spent outdoors (rain or shine) means exposure to harmful UV rays and the damaging effects of pollution. The Focus Care™ Antioxidant Gel is enriched with vitamins & antioxidants to help protect your skin from internal and external stresses. #TakeAMoment to defend and protect - for healthier, more beautiful-looking skin.
At Environ, we believe that everyone can live beautifully and that no one should live with regrets. We know that when it comes to life, there are no shortcuts, and that your skin is no different.
Get your essential skin care regime from one of Environ's authorised stockists, and begin your journey to reborn beautiful skin today!
You only get one life. LIVE IT. Beautifully.